Variety - Hidden Valley A422
This page on Interpreting Varieties Pages provides information on the terms used below.
Summary
Note: A422 is South African Release Only
At this stage A403 & A422 will be South African releases only. The reason is that while they have performed well in trials, both late season harvest. Australia has recently added several new varieties with this trait in the last few years, so the market for them is probably already satisfied.
However, if there are Australian growers who would like to plant these trees, contact us and if enough are interested we can make them available.
| | |
| --- | --- |
| Royalty Status | Release Pending |
| Early Yield/Ha | Typical |
| Later Yield | Consistent |
| Kern Recovery | 39 - 43% |
| Whole Kernels | 50 - 60% |
| Kernel Wt | 3.0 - 3.5g |
| First Grade | 95 - 100% |
| Flower Season | Mid Season |
| Harvest Season | Late, clean drop |
| Tree Size | Large |
| Husk Spot | Unknown |
| Sticktights | Low |
| Ethrel Response | Poor |
| Abnorm Vertical (AVG) | Appears Tolerant |
| Pollenisers | Unknown |
Details
A422 performed well at Hidden Valley but did not really stand out in the trials.
Observed Benefits
Observed Faults
The variety is in very early stages of adoption, no obvious faults have been observed at this stage.
Performance in Trials
Note the following table uses mean annual Gross Income/Ha/Yr as opposed to accumulated.
Gross Income/Ha/Yr in RVT3
Mean of Years 4 to 9, $5/kg base price
HV A447
Mean of 5
Standards
Alstonville
$9,177
$9,922
B1 (De Cortez)
$6,953
$7,908
B2 (Booyan)
$10,258
$11,018
B3 (Bundy Sugar)
$6,476
$7,563
Childers (to yr 7)
$14,070
$14,441
B4 (Wirra Willa)
$8,439
$10,513
Gross Income vs Year
(Orange/Green change indicates positive cash flow)
Gross Income vs Year at Alstonville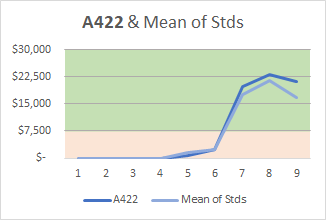 Gross Income vs Year at Booyan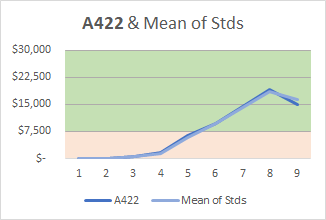 Gross Income vs Year at DeCortez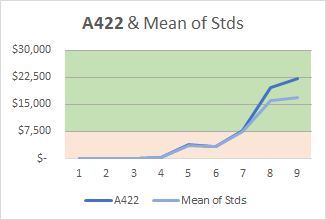 Harvest Patterns
(Yellow sections indicate hand strip)
Harvest Pattern at Alstonville 2017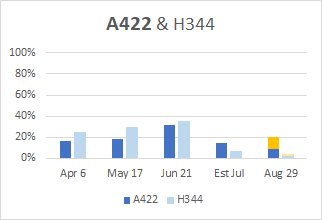 Harvest Pattern at Booyan 2017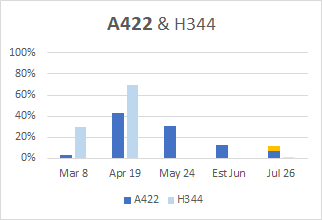 Harvest Pattern at DeCortez 2017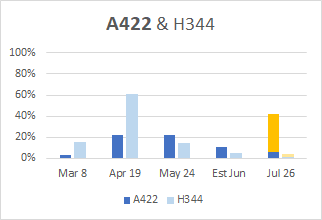 Our more detailed discussion of RVT Series 3 results is available here.
Back to Varieties
---
Some data and images courtesy of DAFF Qld. Data is compiled to best of our knowledge at the time of publication but errors are possible. Data presented is not a guarantee of performance in future orchards; real world performance is highly dependent on the combination of genetics, environment and management. Interpretation of the data presented and resulting decisions are entirely the grower's responsiblity.